1、Joby Aviation Gets Part 135 Carrier Certificate: Company Plans eVTOL Service for 2024
Joby Aviation获Part 135航空承运人证书,计划于2024实现eVTOL服务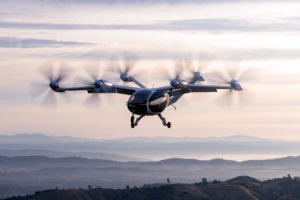 Last week, Joby Aviation received a Part 135 Air Carrier Certificate from the FAA, which will allow the company to operate as an air carrier.
上周,Joby Aviation获得了由美国联邦航空管理局(FAA)认证的 Part 135 航空承运人证书。这即是Joby开始提供空中运输服务的基点。
Joby's all-electric aircraft will transport a pilot and four passengers up to 150 miles on a single charge, at speeds of up to 200 mph.
Joby 的全电动飞机一次充电可运送一名飞行员和四名乘客,飞行距离可达 150 英里,时速可达 200 英里/小时。
The Part 135 Air Carrier Certificate is the first FAA approval Joby needs to operate their electric vertical take-off and landing (eVTOL) aircraft as an air taxi. Bonny Simi, Head of Air Operations and People at Joby, and one of the Company's FAA-approved pilots,stated: "The procedures we've prepared lay a foundation for our future eVTOL operations. Over the coming months, we will use our Part 135 certificate to exercise the operations and customer technology platforms that will underpin our multi-modal ridesharing service, while also refining our procedures to ensure seamless journeys for our customers."
Joby将其电动垂直起降 (eVTOL) 飞机作为空中出租车进行操作的首个FAA 证书即为Part 135航空承运人证书。 Joby空中运营和人员主管兼 FAA 认证飞行员 Bonny Simi 表示:"我们所准备的程序为我们未来的 eVTOL 运营奠定了基础。在接下来的几个月里,运用Part 135证书,我们可以运行运营和客户技术平台,实现多模式拼车服务,同时也可以完善我们的程序以确保为我们的客户提供完美的旅行体验。"
"Pilots for the Company's future aerial ridesharing service, expected to launch in 2024, will have the benefit of flying an environmentally-friendly aircraft on a reliable work schedule, ending each shift in their home city," says the company.
该公司表示:"公司未来的空中拼车服务预计将于 2024 年推出,由此飞行员们不再实行轮班制,而能按照正常的工作时间表驾驶环保型飞机。"


2、Swoop Aero in Kenya: New Partnership Will Enable Medical Drone Delivery
肯尼亚Swoop Aero将实现无人机医学运输服务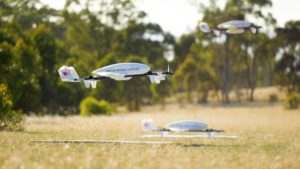 Recently,Swoop Aero announced a partnership with Astral Aviation subsidiary Astral Aerial Solutions and Skyports for the launch of a drone logistics network in Kenya.
今日 Swoop Aero 与肯尼亚阿斯特拉航空公司公司(Astral Aviation) 的无人机服务子公司以及Skyports建立合作关系, 在肯尼亚推出无人机物流运输网。
The partnership will see Swoop Aero make full use of its complete technology infrastructure and drone logistics experience to enable the transport of medicines, vaccines, and medical samples to patients and healthcare facilities throughout Kenya, with last-mile delivery set to launch by the end of 2022. This will be the first Beyond Visual Line of Sight (BVLOS) drone operation in Kenya, and will be carried out in close coordination with the Kenyan Civil Aviation Authority to ensure safety and compliance with local regulations.
Swoop Aero 充分利用其完善的技术基建和无人机物流经验,实现肯尼亚本国内为病人和医疗保健机构部运输药物、疫苗和医学标本的目标,并在2022年底前开始最后一英里的交付。
此次实践是肯尼亚的首个超视距无人机实操项目,实施过程中将与肯尼亚民航局进行协调,确保与当地的安全法规不相违背。
Swoop Aero CEO Eric Peck said, "Kenya represents the 14th country in which the Swoop Aero technology platform has underpinned BVLOS drone logistics regulatory approvals. The regulatory approvals and operations will bring Swoop Aero closer to providing an integrated drone logistics service to 100 million people by 2025."
Swoop Aero CEO Eric表示:"肯尼亚是第14个运用"Swoop Aero"技术平台的国家,获BVLOS无人机物流监管的批准。此次进程我司更趋近于在2025年前为1亿人提供综合性无人机物流服务的目标。"
3、Drones Monitor Pollution in the Maldives
马尔代夫地区无人机污染监测
Melissa Schiele, a researcher at Loughborough University, is heading a new partnership with non-profit organization Oceans Unmanned and the Marine Research and High Education Center that aims to utilize drones to gain a greater understanding of the levels and rates of plastic pollution in the Maldives.
拉夫堡大学研究员梅丽莎席勒与海洋无人驾驶非盈利组织,海洋研究与高等教育中心建立合作关系,旨在运用无人机对马尔代夫地区白色污染程度有更好地理解。
The partnership, with the support of The Ritz-Carlton Maldives, Fari Islands, seeks to establish a standardized methodology for detecting plastics in the Indian Ocean using drones. At present, there is no standard technique in place for the gathering of information on plastic aggregations and reposition rates around the Maldives.
此次合作得到了马尔代夫法里群岛丽思卡尔顿酒店的支持,计划建立一套标准化方法论,运用无人机建探测印度洋海域的塑料污染。 当前,马尔代夫地区尚未推出标准化技术以获取塑料聚合及回收率的数据信息。
"We're very excited about this partnership. We've been collaborating with Ms. Schiele over the past year on our marine debris initiatives and look forward to expanding the collaboration," said Matt Pickett, founder of Oceans Unmanned. "In addition, we're big believers in the power of technology to address environmental challenges and marine conservation is an area where we believe our experience can really support local efforts in the Maldives."

我们非常看好此次合作。海洋无人组织的创始人马特皮克特说道,"在过去的一年里,我们与席勒女士通力合作并且我们希望扩大合作规模。此外,我们相信技术的强大力量足以解决环境问题的挑战,海洋领域的对话足以证明我们的经验可以助力马尔代夫当地的发展。"
4、Spright partners with Synerjet to launch Medical Drone Delivery in Brazil
Spright与Synerjet合作在巴西开展医疗无人机送货业务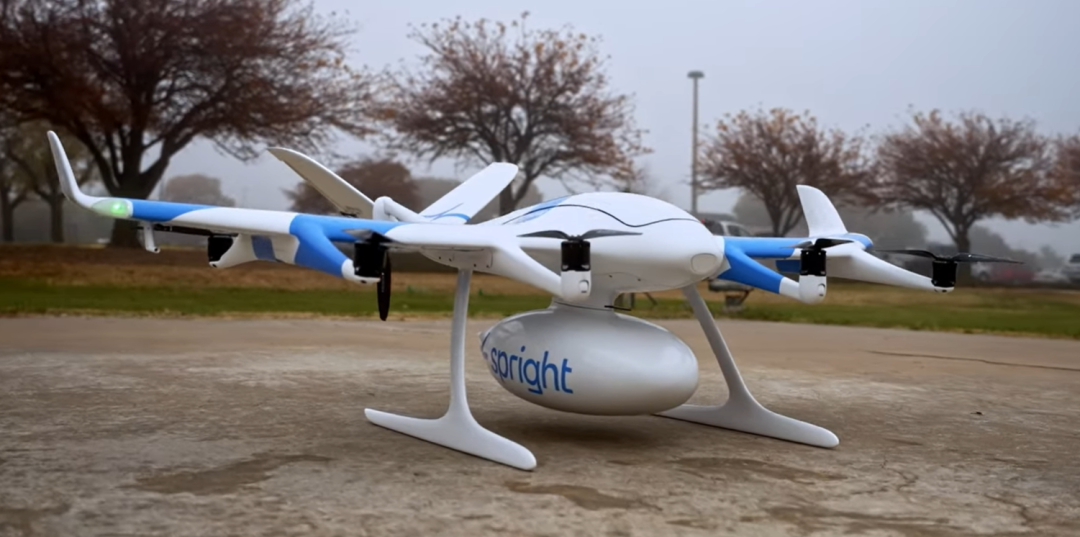 Recently, medical drone delivery operator Spright announced a partnership with Latin-American aviation company Synerjet, which is an important step to expand medical drone service in Brazil.

日前,医疗无人机送货运营商Spright正在与拉丁美洲航空公司Synerjet开展合作,他们认为这将是在巴西各地扩大医疗服务的一个重要步骤。
This month, these two companies reached a consensus on accelerating and improving the distribution of medical supplies to Brazil's 212 million population.
这两家公司本月同意加快和改善巴西及其2.12亿人口的医疗用品和分配。
In the midst of enhancing medical drone delivery service, Synerjet can identify its potential healthcare clients with its past experience and construct a series of effective air route, providing Spright with 19 drones for medical delivery.
在此过程中,Synerjet公司将依靠其在该地区的经验来确定潜在的医疗保健客户,建立一系列有效的空中路线,并提供Spright公司将操作的19架运送无人机。
This partnership plans to make preparation for launching medical drone delivery service in late 2022 or early 2023.
合作伙伴计划在今年晚些时候或2023年初之前做好推出服务的必要准备。