First EURASIAN ConFERENCE ON DRonES & TECHNOPRENEURSHIP is arriving on December 3-4
首届欧亚无人机暨技术创业会将于12月3-4日召开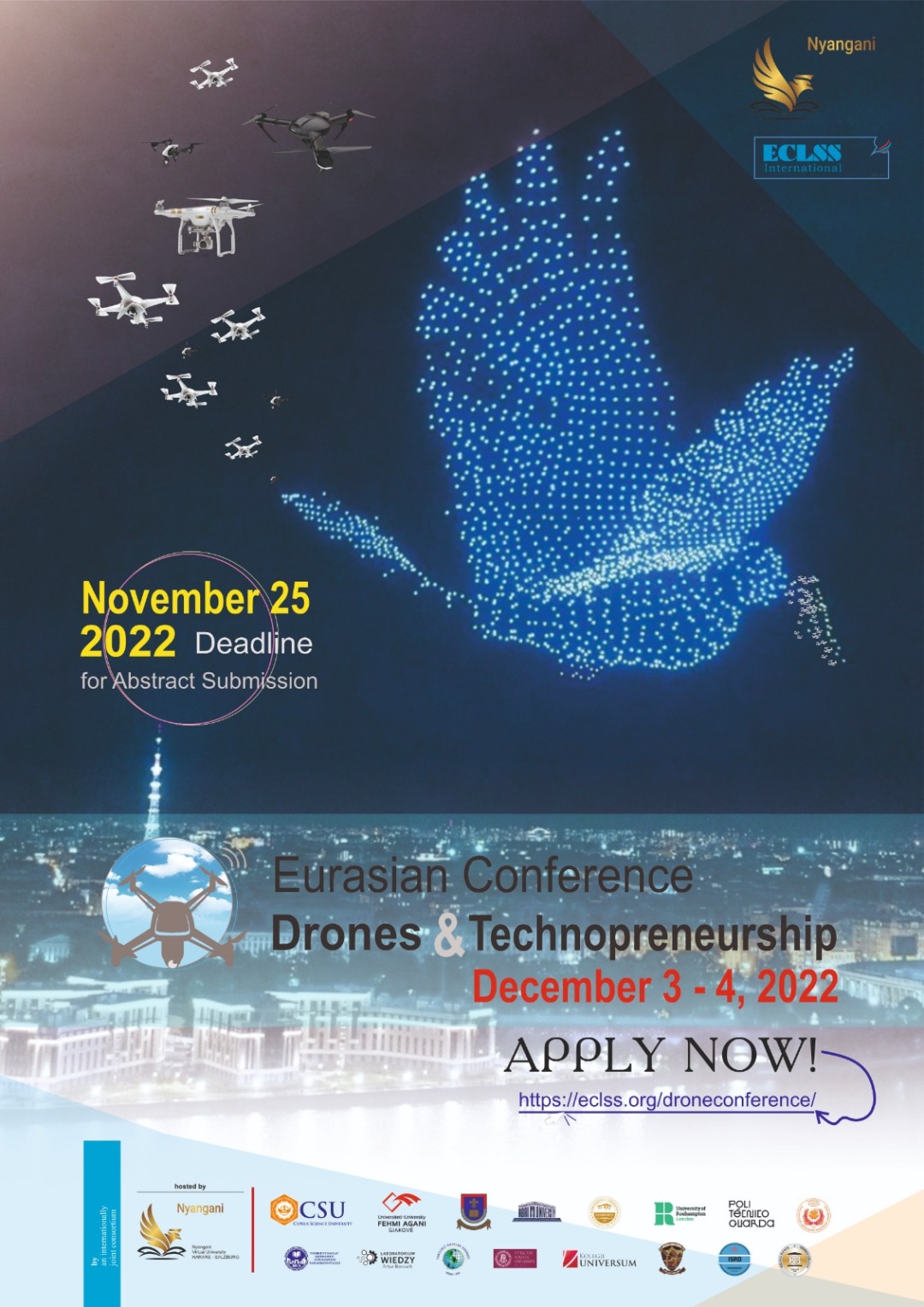 ECLSS is an international academic consortium that contributes the main fields of social sciences and all other domains in scientific research. The mission of ECLSS is to provide a platform for researchers, academicians as well as other professionals from all over the world to present their research results and develop ideas and insights. This conference also provides excellent opportunities for the participants to exchange new ideas, expertise, and experiences, establish business or research relations, and find partners for future collaboration.
国际学术联盟ECLSS主要涉足社会科学和其他社会研究领域,为世界各地的研究者、学术家和专家提供展示研究成果,发表想法和见解的平台。该会议也为参会人员交流新想法、专业知识和经验,建立业务或研究联系,寻找合作伙伴提供了绝佳机会。
This year, Organizing Committee is really concerned about measures taken against the COVID-19 pandemic and your safety is our priority. Therefore the Conference will happen on both ON-SITE and onLINE platforms, and sessions will also be virtual participation on ZOOM.
今年,由于疫情防控,以人们的安全为优先,组委会决定会议的召开在现场和线上平台同步进行,并且各分会会通过ZOOM平台进行线上参与。
The languages of Eurasian Drone Conference (DRONESv2022) are English, Polish, and Turkish.
欧亚无人机会议包括英语、波兰语和土耳其语三国语言。
Papers presented at the congress will be published in both the Abstract and the Proceedings book. In addition, in accordance with the publication rules of the relevant journals, publications will be offered in journals indexed on the Web of science.
大会上展示的文章会发布在摘要和会议记录书上。此外,为了遵循相关杂志的发表规则,文章于杂志出版,编入索引期刊。
The goal of our conference is also to support, encourage and provide a platform for young researchers to present their research, network within the international community of other young researchers, and seek the insight and advice of successful senior researchers during the conference.
举办此次会议也是为了支持、鼓励青年研究者,为他们提供平台展现其研究成果,形成年轻研究者国际性社区,建立国际联系并在大会上寻求来自资深成功研究者的建议和见解分享。
The founder of ECLSS is Prof Dr Drhabil Klaus Oestreicher, president of the Nyangani Virtual Universit, which is an autonomous University in association with and part of the Harare Institute of Technology.
ECLSS的创始人是德拉比尔·克劳斯·奥斯特赖歇尔教授,他是尼扬加尼虚拟大学的校长,该大学是一所与哈拉雷理工学院合作并隶属于哈拉雷理工学院的自治大学。
Harare International Drone School is composed of three institutions, including Harare Institute of Technology for Sophisticated Higher Education in Technology, Nyangani Virtual University for Higher Education of Global Reach & Scope and Garuda aerospace for Hi-End Drone Technology & Vocational Education. And here attached a pdf file for the detailed information of it. Please take a look.
哈拉雷国际无人机学校由三个机构组成,包括哈拉雷技术学院(技术领域先进高等教育)、尼杨加尼虚拟大学全球高等教育以及鹰航航空高端无人机技术和职业教育机构。该文章附上有关该无人机学校详细信息的PDF文件,欢迎各位查看。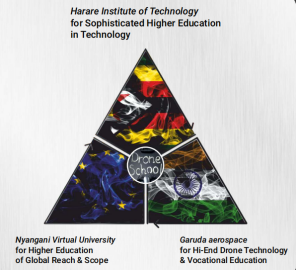 Harare International Drone School.pdf

Key Dates:
关键日期:

Official Website: https://eclss.org/droneconference/