VoloConnect First Flight: Volocopter eVTOL Travels Further and Faster
VoloConnect飞机首航: Volocopter 更快更远的eVTOL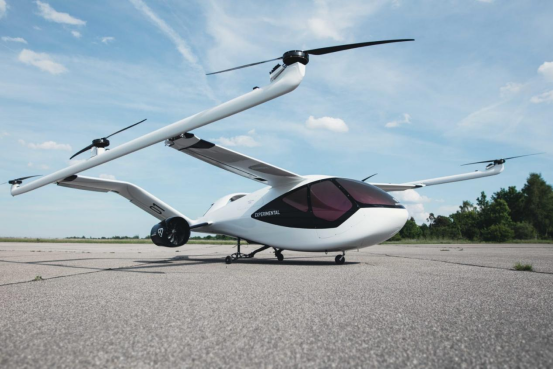 The UP.Summit saw urban air mobility (UAM) leader Volocopter announce that its VoloConnect fixed-winged passenger aircraft completed its first flight this past May, making Volocopter the world's first and only eVTOL (electric vertical takeoff and landing aircraft) developer to have a full fleet of individual aircraft configurations undergoing flight tests.
城市空中交通领导者Volocopter 在UP.峰会上宣布其VoloConnect固定翼客机已于五月份完成首飞,这一成就标志着Volocopter成为世界上唯一一家拥有独立飞机配置试飞完整机队的eVTOL(电动垂直起降飞机)开发商。
With a range of over 60 miles and able to reach speeds of over 155 mph, the VoloConnect travels further and faster than any other Volocopter aircraft. Its six rotors enable vertical takeoff, and its two electric fans work in unison with its uplift-creating wings to allow for its high speed. While the VoloCity and VoloConnect (expected to launch in 2024 and 2026 respectively) meet needs for metropolitan and suburban flights, Volocopter aims to serve a wide range of flight needs.
Voloconnect的航程超60英里,速度可超过155英里每小时,与其他Volocopter飞机相比可飞得更远更快。飞机的六组旋翼有助于垂直起飞,而其两组电动推进扇配备了提升翼,确保飞机的高速飞行。尽管VoloCity 和 VoloConnect(预计分别在2024年和2026年推出)满足了城市和郊区航班的需求, 但是Volocopter旨在提供广泛的飞行需求。
VoloConnect is set to significantly increase Volocopter's total addressable UAM market, together with its previous models, the VoloDrone and VoloCity. Going forward, the company seeks to integrate each of the three aircraft into individualized UAM ecosystems for cities, while also employing the VoloIQ digital platform to connect all of Volocopter's flight operations, passenger services, maintenance, and more for a flawless mobility experience.
VoloConnect的推出是为了与现有的机型系列VoloDrone和VoloCity大幅扩大Volocopter的目标市场规模。公司将在未来的发展中整合三种机型为城市创建个体化UAM(城市空中交通)生态系统,同时采用VoloIQ平台连接所有Volocopter飞机运行,乘客服务,维修,以创建更加完美无瑕的交通体验。


It's Takes a Bird to Stop a Bird: The RoBird® Flying Robot Defends Airports Against Bird Strikes
以鸟制鸟:鸟型机器人(RoBird)让机场免受鸟类袭击


It's a Bird! It's a Plane! It's a Bird that's a…Plane! The RoBird flying robot.
它是鸟!也是飞机!它是一架...飞机的一只鸟!机器鸟---RoBird.
At the Edmonton International Airport and Grand Forks International Airport in North Dakota, a Peregrine falcon soars near the runway to deter birds from interfering with air traffic. It looks real. But it's not. It's a flying robot called the RoBird®.
在位于北达科他州的埃德蒙顿国际机场和大福克斯机场,一只游隼在航道附近回旋,阻止鸟类干扰空中交通。虽然它看起来很逼真,但它并不是鸟,而是飞行机器人,名为RoBird。
RoBird has wings that flap. It flies, like a falcon, for five minute high-impact stints. Also like its counterpart in nature, the RoBird can reach speeds of up to 27 miles per hour.
RoBird的翅膀可以扇动,可像鹘一样进行五分钟高强度飞行。并且RoBird的飞行速度可达27英里每小时。
Aerium Analytics, a multi-disciplined drone solutions company based in Calgary, Alberta, produces this novel drone, a ornithopter, that mimics the look and actions of the predatory bird.
Aerium Analytics,是一家总部位于加拿大卡加利市艾伯塔省的多领域无人机解决方案公司,生产了此新型飞机,一款模仿捕食性鸟类外表和行动的扑翼飞机。
According to Aerium CEO Jordan Cicoria, RoBird works because the Peregrine falcon is one of the most feared aerial predators in the world. It is known on six of the seven continents. Nearly every flocking bird species has been predated on by Peregrines." He refers to the drone as a "sheepdog in the sky."
RoBird之所以能起作用是因为游隼是世界上最可怕的空中捕食者,为六个大洲所熟知。几乎每一种鸟类群集都曾是游隼的捕食对象。他把RoBird称作"天空中的牧羊犬"


Wisk Aero Signs Agreement to Bring Autonomous Air Taxi Program to Australia
Wisk Aero签订合作协议,将空中自动驾驶"出租车"引进澳大利亚
Advanced Air Mobility (AAM) leader Wisk Aero has formed a partnership with the Council of Mayors South East Queensland in order to introduce its autonomous air taxi service to the region.
城市空中交通领导者Wisk Aero与昆州东南部地区市长联盟建立合作关系,将空中自动驾驶出租车引入该地区。
Wisk CEO Gary Gysin said, "This is an exciting time for us, as we continue our momentum and expand our global presence. We look forward to building on the strong relationships we have in Australia to make safe, all-electric, autonomous flight a reality."
Wisk CEO Gary Gysin说道,"此次合作我感到非常兴奋,因为我们可以继续创造历史,扩大全球知名度。我们希望与澳大利亚地区建立强大的合作枢纽,共同创造安全的全电子自动驾驶飞机。
"On the back of the Brisbane 2032 Games, we're delighted to be working with Wisk to look at how South East Queensland can capitalize off the new jobs and economic opportunities associated with this new and exciting industry," The Council of Mayors Chair, Brisbane Lord Mayor Cr Adrian Schrinner expressed. "We expect to see the emergence of advanced air technology in places like Paris and Los Angeles, and by 2032 I'd love to see it supporting new and innovative experiences for tourism and travel in South East Queensland."
市长联盟长及布里斯班市长Cr Adrian Schrinner表示, " 在2032澳大利亚布里斯班奥运会背景下,我们很高兴能与Wisk合作,研究昆州东南部如何充分利用该背景所带来的与城市空中交通工业相关的新工作机会和经济机会。我希望诸如法国和洛杉矶的国家能开始采用城市空中交通技术,同时我们计划在2032年前在昆州东南部推出创新型技术支撑旅游业。"


Paris Metro Looks to Modernize with Drone Inspection
巴黎地铁站希望通过无人机监测实现现代化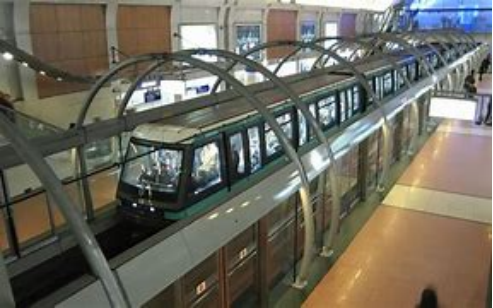 Though Paris Metro may be over 120 years old, the famous underground subway system strives to stay young through modernization, and is now preparing to roll out new tech innovations that include robots and drones.
尽管巴黎地铁已经有120年的历史了,该著名地下地铁系统通过现代化努力保持年轻,现在正准备推出包括机器人和无人机的科技创新成果。
Operator Régie autonome des transports parisiens (RATP) currently has about 180 projects in progress to test or deploy new technology application and simplify operation, promoting efficiency and security. It includes drone Flyability Elios 2, which was put in use on Paris Metro for inspections of elevated assets, or access and visualize equipment difficult for humans or other machines to reach. A similar concept is trialing Boston Dynamics' robotic dog to remotely check on nearly 230 km of rails and 308 stations.
运营商Régie autonome des transports parisiens (RATP)目前正在进行大约180个项目,以测试或部署新的技术应用,以简化操作并提高效率及安全性。其中包括在巴黎地铁中使用Flyability Elios 2无人机,对高架资产进行检查,或进入和观察人类或其他机器难以到达的设备。一个类似的概念是试用波士顿动力公司的机器人狗,对近230公里的铁路和308个车站进行远程检查。
Officials of Paris Metro found that the limit of drones and robotic dog is the battery lifetime, which reduces every mission to be under 45 minutes. The Innovation Manager Come Berbain stated, modernized power from new technology and application is "part of DNA OF RATP". We are cooperating with approximately 140 different enterprises, colleges, researches and industries to enhance modernization of Paris Metro.
巴黎地铁官员发现无人机和机器狗的主要问题是相对有限的电池寿命,限制了每次任务时间在45分钟以下。集团创新总监Come Berbain表示,利用新技术和应用的现代化动力是"RATP的DNA的一部分"。在这一努力中,运营商正在与大约140个不同的创业公司、大学、研究和工业伙伴合作。